Course Reserves Collections provides access to items suggested or recommended by course instructors for their students. All reserves items will be placed in Course Reserves Collections which is located on first level, next to Access Service Desk.
Fluid Mechanics Fundamentals and Applications
ISBN: 0073380326
Publication Date: 2013-01-30
Cengel and Cimbala's Fluid Mechanics Fundamentals and Applications, communicates directly with tomorrow's engineers in a simple yet precise manner. The text covers the basic principles and equations of fluid mechanics in the context of numerous and diverse real-world engineering examples. The text helps students develop an intuitive understanding of fluid mechanics by emphasizing the physics, using figures, numerous photographs and visual aids to reinforce the physics. The highly visual approach enhances the learning of Fluid mechanics by students. This text distinguishes itself from others by the way the material is presented - in a progressive order from simple to more difficult, building each chapter upon foundations laid down in previous chapters. In this way, even the traditionally challenging aspects of fluid mechanics can be learned effectively. McGraw-Hill is also proud to offer ConnectPlus powered by Maple with the third edition of Cengel/Cimbabla, Fluid Mechanics. This innovative and powerful new system that helps your students learn more easily and gives you the ability to customize your homework problems and assign them simply and easily to your students. Problems are graded automatically, and the results are recorded immediately. Natural Math Notation allows for answer entry in many different forms, and the system allows for easy customization and authoring of exercises by the instructor.
Fluid Mechanics
Call Number: TA357 W583 2011
ISBN: 0077422414
Publication Date: 2010-02-02
The seventh edition of White's Fluid Mechanics offers students a clear and comprehensive presentation of the material that demonstrates the progression from physical concepts to engineering applications and helps students quickly see the practical importance of fluid mechanics fundamentals. The wide variety of topics gives instructors many options for their course and is a useful resource to students long after graduation. The book's unique problem-solving approach is presented at the start of the book and carefully integrated in all examples. Students can progress from general ones to those involving design, multiple steps and computer usage.
Fluid Mechanics
Call Number: TA357 F646 2011
ISBN: 0273717723
Publication Date: 2011-08-19
The sixth edition of this established, popular textbook provides an excellent and comprehensive treatment of fluid mechanics that is concisely written and supported by numerous worked examples. This revision of a classic text presents relevant material for mechanical and civil engineers, as well as energy and environmental services engineers. It recognises the evolution of the subject and provides thorough coverage of both established theory and emerging topics. Fluid Mechanicsis ideal for use throughout a first degree course in all engineering disciplines where a good understanding of the subject is required. New sections on rotodynamic machine interaction, contaminant concentration prediction and water reuse responses to the drought consequences of climate change. Extended website includes enhanced and additional simulations.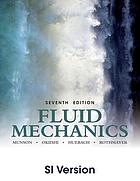 Fluid Mechanics
ISBN: 9781118318676
Publication Date: 2013
Fundamentals of Fluid Mechanics offers comprehensivetopical coverage, with varied examples and problems, application ofvisual component of fluid mechanics, and strong focus on effectivelearning. The text enables the gradual development ofconfidence in problem solving.
Fluid Mechanics
Call Number: TA357 D734 2001
ISBN: 9780582414761
Publication Date: 2001-05-16
Written for courses in Fluid Mechanics in Civil and Mechanical Engineering, this text covers the fundamental principles of fluid mechanics, as well as specialist topics in more depth. The fundamental material relates to all engineering disciplines that require fluid mechanics. As in previous editions this book demonstrates the link between theory and practice with excellent examples and computer programs. The programs help students perform 3 types of calculations; relatively simple calculations, calculations designed to provide solutions for steady state system operation, and unsteady flow simulations.
Fundamentals of Fluid Mechanics
ISBN: 1118399714
Publication Date: 2012-05-15
This text is an unbound, binder-ready edition. Fundamentals of Fluid Mechanics is THE best-selling fluid mechanicstext for a reason - it offers comprehensive topical coverage,with varied examples and problems, application of the visualcomponent of fluid mechanics, and a strong focus on effectivelearning to help students connect theory to the physical world. The text enables the gradual development of confidence inproblem solving. Each important concept is introduced ineasy-to-understand terms before more complicated examples arediscussed. Continuing this book's tradition of extensive real-worldapplications, this latest edition includes new problem types, anincreased number of real-world photos, and additional videos toaugment the text material and help support visualization skillbuilding and engage users more deeply with the material andconcepts. When adopted along with the text, WileyPLUS (Access to WileyPLUSsold seperately) further helps build students' confidencebecause it takes the guesswork out of studying by providingstudents a clear roadmap: what to do, how to do it, if they did itright. With WileyPLUS, students take more initiative, soinstructors will have a greater impact. WileyPLUS includes fluids phenomena and problem-solving videos,automatically graded algorithmic and GO (Guided Online) tutorialproblems, multiple choice concept questions, and sample FE examquestions. Access to WileyPLUS is not included with this textbook.
Engineering fluid mechanics
ISBN: 9781118318751
Publication Date: 2014
The authors aim for students to design and problem solve whilstenjoying their journey as they learn * Numerous sketches and photographs help students learn moreeffectively * Emphasizes technical derivations so that students can learn todo the derivations on their own, increasing their levels ofknowledge.
Engineering Fluid Mechanics
Call Number: TA357 C953 2005
ISBN: 9780470259771
Publication Date: 2008-09-30
Connecting the math and theory of fluid mechanics to practical applications can be a difficult process. Engineering Fluid Mechanics builds on the success of previous editions to help engineers learn how to apply concepts by keeping them engaged and active throughout the book. Simple and effective examples show how key equations are utilized in practice, and step-by-step descriptions provide details into the processes that engineers follow. Each chapter also outlines the three most important things they will be able to accomplish once the concepts are learned. With its physical/visual approach, engineers will quickly gain an intuitive understanding of the principles.
Fluid Mechanics
Call Number: TA357 K96 2008
ISBN: 0123737354
Publication Date: 2007-11-21
Fluid mechanics, the study of how fluids behave and interact under various forces and in various applied situations-whether in the liquid or gaseous state or both-is introduced and comprehensively covered in this widely adopted text. Fully revised and updated with the addition of a new chapter on biofluid mechanics, Fluid Mechanics, Fourth Edition is suitable for both a first or second course in fluid mechanics at the graduate or advanced undergraduate level. The leading advanced general text on fluid mechanics, Fluid Mechanics, 4e guides students from the fundamentals to the analysis and application of fluid mechanics, including compressible flow and such diverse applications as hydraulics and aerodynamics. Updates to several chapters and sections, including Boundary Layers, Turbulence, Geophysical Fluid Dynamics, Thermodynamics and Compressibility. Fully revised and updated chapter on Computational Fluid Dynamics. New chapter on Biofluid Mechanics by Professor Portonovo Ayyaswamy, the Asa Whitney Professor of Dynamical Engineering at the University of Pennsylvania. New Visual Resources appendix provides a list of fluid mechanics films available for viewing online. Additional worked-out examples and end-of-chapter problems. Updated online Solutions Manual for adopting instructors.
Fluid Mechanics
Call Number: TA357 C395 2010
ISBN: 0073529265
Publication Date: 2009-01-01
Covers the basic principles and equations of fluid mechanics in the context of numerous and diverse real-world engineering examples. This book helps students develop an understanding of fluid mechanics by emphasizing the physics, using figures, photographs and visual aids to reinforce the physics.
COURSE RESERVE COLLECTIONS