Principles of Business Economics
ISBN: 9789834509637
Publication Date: 2010
Principles of economics is specifically written to provide students with a thorough understanding of microeconomic and macroeconomic concepts. It especially caters to students pursuing certificate, diploma and degree in the area of Economics and Business.

In this revised edition, the contents and presentation have been enhanced in order to keep up with the latest developments in the subject. Some important concepts such as market failure, and normative vs. positive analysis have been added to further improve the scope of the materials.

Source: MPH Online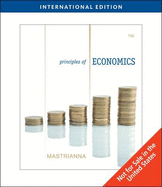 Principles of economics / Frank V. Mastrianna.
Call Number: In Cataloguing
ISBN: 9780324782653
Publication Date: 2010
Now in its fifteenth edition, PRINCIPLES OF ECONOMICS, 15e, INTERNATIONAL EDITION delivers a streamlined, straightforward introduction to the fundamentals of macro- and microeconomics, while addressing some of the most stimulating issues affecting the world today. You will engage students with timely discussions of monetary policies and the labor market, as well as the recent financial market collapse and housing crises. This very successful text also presents in a concise, 19-chapter format, which can be covered in single quarter or semester, and includes a wealth of student applications and instructor supplements to assist with course planning and teaching - Cengage Learning
Principles of Business Economics
Call Number: HD30.22 N422 2006
ISBN: 9780273693062
Publication Date: 2006-08-01
A concise, jargon-free microeconomics text that is ideal for MBA students.
Principles of Economics
Call Number: HB171.5 M264 2011
ISBN: 9780538453059
Publication Date: 2011-02-10
With its clear and engaging writing style, PRINCIPLES OF ECONOMICS, Sixth Edition, continues to be one of the most popular books on economics available today. Mankiw emphasizes material that you are likely to find interesting about the economy (particularly if you are studying economics for the first time), including real-life scenarios, useful facts, and the many ways economic concepts play a role in the decisions you make every day.
Principles of Economics, Brief Edition
Call Number: HB171.5 F829 2011 f
ISBN: 9780073511436
Publication Date: 2010-10-01
In recent years, innovative texts in mathematics, science, foreign languages, and other fields have achieved dramatic pedagogical gains by abandoning the traditional encyclopedic approach in favor of attempting to teach a short list of core principles in depth. Two well-respected writers and researchers, Bob Frank and Ben Bernanke, have shown that the less-is-more approach affords similar gains in introductory economics. The authors introduce a coherent short list of core principles and reinforce them by illustrating and applying each in numerous contexts. Students are periodically asked to apply these principles and to answer related questions and exercises.
Survey of Economics
Call Number: HB171.5 T892 2011
ISBN: 9781439040546
Publication Date: 2010-01-01
Designed specifically for the one-semester introductory economics course for non-majors, Tucker's SURVEY OF ECONOMICS, Seventh Edition, delivers the most comprehensive and pedagogically rich treatment of introduction to economics available. Readable, sensible, and interesting, this text is renowned for its engaging presentation, emphasis on critical thinking, active learning environment, highly motivational pedagogy, unrivaled visual learning support, and numerous in-chapter applications and review opportunities. With its focus on the most basic tools and topics in economics in the context of real-world issues, students get the opportunity to see how economic issues play out at national and international levels. The seventh edition has been thoroughly updated to show students how economics impacts their own world through topics such as privatization versus nationalization, social security, carbon emissions, social-networking sites, America's housing bubble, and gasoline prices.